Genetic Testing for Breast Cancer
Some women inherit mutational changes from certain genes that risk them of breast cancer. In such a case, genetic testing can be done to examine for mutations in those genes. Genetic testing helps in most cases, but not every woman needs to do it. 
The most important inherited gene changes are found in BRCA1 and BRCA2 genes. A person with one of these gene changes, either a Men or Women are said to have Hereditary Breast Cancer.
In women with the BRCA gene, the risk of getting breast cancer is high. While in men the risk is low as compared to women. If there is a family history of breast cancer, then you would have higher chances of getting breast cancer yourself. 
The risk of having gene inheritance is also affected by:
Close family members who are been affected (cancer in relatives such as mother or sister is more concerning than in distant relatives.)

The number of family members affected.

The age when relatives with detected with cancer (younger the age more is the concern.)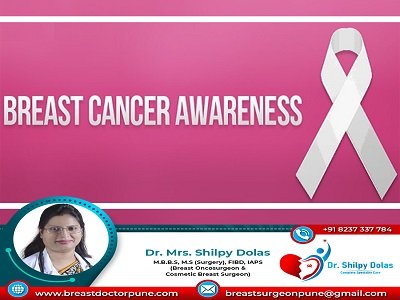 Considering genetic counseling and testing for breast cancer: 
If you are detected with Breast cancer or have a family history of it, talk with a Breast Cancer Specialist, they have several risk assessment tools to check. The analytical models use the family history and related factors to give you and your doctor a clear idea about the risk associated with BRCA mutation. But you can't completely rely on them as each one might give a different result. 
A Breast doctor might also suggest visiting a genetic counselor or a health professional who specializes in genetic counseling. Dr. Shilpy Dolas is a Breast Surgeon in Pune, she can review your family history in detail to check how likely you are prone to a family cancer syndrome like HBOC (Hereditary Breast and Ovarian Cancer.)
What happens during Genetic Testing-BRCA? 
This BRCA genetic testing is a kind of a blood test, and in this test, you would get the best possible results with the help of your DNA analysis. Further, there are several things that we can identify with the help of this Genetic Testing-BRCA. 
To know more about Genetic Testing for Breast Cancer, connect with Dr. Shilpy Dolas, she is a Breast Doctor in Pune.
Contact Us
1) Heart & Breast Care Clinic: Mon to Sat 5 Pm – 7.30 Pm ( Phone No. 8237337784 / 9834516600)
2)Ruby Hall Clinic, Sasoon Road Pune: Wed, Fri- 12 Pm to 2 Pm ( Phone No. 8237337784)
3) Aditya Birla Hospital, Pimpri, Pune: Mon and Sat – 2 Pm to 4 Pm
4) Jupiter Hospital Baner, Pune: Mon and Sat
12 Pm – 2 Pm on appointment (Phone No. 8237337784 / 9834516600)
5) Apollo Clinic, Viman Nagar, Pune: Tue and Wed 10 Am – 12 Pm on appointment (Phone No. 8237337784 / 9834516600)